Mini Load ASRS. Vertical. Fast. Compact.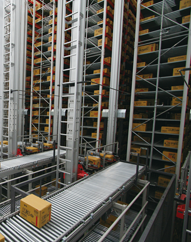 A Mini Load ASRS is a high-speed high-density storage and retrieval system that can replace conventional static shelving to maximize vertical storage space within a compact footprint. The mini load moves and stores goods or parts that are stored in totes, collapsible totes, nesting containers, case/cardboard boxes or bins. The system handles containers that weigh up to 662 lbs. Rack height ranges from 10-66 feet.
Interested in one of our solutions?
Contact us today so that we can build a solution custom fit for your business needs.
Contact Us
Related Products