Unit Load ASRS. High Density. Vertical. Fast. Compact.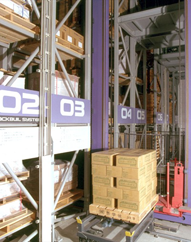 Unit Load ASRS' are high-density pallet storage and retrieval systems designed to maximize vertical storage space while maintaining a compact footprint. Several models are available to handle pallet loads from 1,100 to 6,600 lbs. and rack heights up to 131 ft. The unit load can also be used to store long or bulky items, hazardous materials and it is also ideal for freezer and low-noise applications. In addition to a standard unit load, a double deep rack configuration is also available.
Interested in one of our solutions?
Contact us today so that we can build a solution custom fit for your business needs.
Contact Us
Related Products